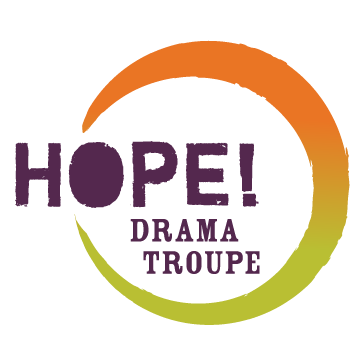 Cast:
15-20 youths ages 13-18, any gender, any race or ethnicity
Cast:
15-20 youths ages 13-18 Boys
15-20 youths ages 13-18 Girls
HOPE! Drama Troupe is a group of 20 middle school and high school youth whose mission is to end child abuse and neglect and strengthen families in Polk County.
Each year, HOPE! Drama Troupe members use an original script to educate area youth about child abuse and the impact it has on children and families. Their 25-minute performance defines the types of abuse, demonstrates the consequences of abuse, and identifies how to get help. The troupe tackles tough issues that are difficult for youth to talk about and portrays ways to discuss problems and seek assistance.
The troupe generally spends one day each month, November-May, with their professional directors and a counselor, touring Central Iowa and performing for various middle schools, high schools, community groups, and more.
HOPE! Drama Troupe Retreat dates: August 9-11, 2022
Production Staff
Directors: Nathan Jorgensen, Jenna Parker, and David A. VanCleave