Charlotte's Web
Wilbur, the runt of the litter, desperately wants to avoid the butcher. With the help of Charlotte, a loyal spider with a flair for writing, and the scavenger rat, Templeton, Wilbur might have a chance at a new life. With unforgettable characters, Charlotte's Web is a timeless story about friendship.
Three ways to see Charlotte's Web
In-person preview: Mar. 3, 2022
In-person: Mar. 4-20, 2022
ADDED SHOW: 7:00 PM, Thursday, Mar. 17, 2022
Please note this show is being presented in the Kate Goldman Children's Theatre and will be sold at full capacity as demand warrants.
Our safety guide has been updated and reflects these main changes.
The Playhouse no longer requires masks to attend a performance. However, masks are welcomed! If it makes you more comfortable, please feel free to wear a mask. We understand that individual healthcare is a matter of personal practices and choices.
There will be no autographs after the show.
We do ask that:
if you are feeling sick, or
have a positive test, or
have had exposure to someone who has COVID
please call the ticket office and reschedule your performance. Our refund and exchange policy remains in effect: You have up to 7 days following your performance date to request an exchange or refund.
Please note: The Playhouse remains committed to providing a healthy and safe environment for volunteers and guests. Should circumstances change once again, mask mandates return, or the CDC alters their recommendations, we will follow the most stringent guidelines. Click here to read our changes as of Mar. 2, 2022.
Video-on-Demand: Thursday, Mar. 17-Sunday, Mar. 20, 2022
Video-on-demand (VOD) guidance
When you order VOD, you will receive a link in the Your Confirmation email. Once you start viewing you have 24 hours to complete the video.
The video can be cast to your smart TV if your TV can accept casting. (The newer models do.) Or if you have ROKU or Chromecast, they too can accept your casting.
While there are some varied angles, there are no movie/Hamilton on Disney+ close-ups. This is not a film; it is a recording of a live theatre production.
If ticket prices are keeping you away from this show, please call the ticket office at 515.277.6261, Noon-5:00 PM, Tuesday-Friday. We have supporters who want to make sure everyone gets a chance to see this production.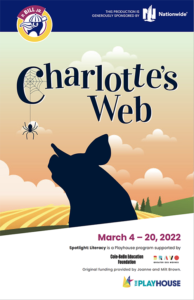 Click here to download the Charlotte's Web P Bill Jr.
Performance Times:

7:00 PM Fridays; 1:00 PM & 4:00 PM Saturdays & Sundays

School Matinees:

9:30 AM & Noon, Tuesday, Mar. 8, and Thursday, Mar. 10, 2022

Theatre:

Kate Goldman Children's Theatre

Run Time:

85 minutes including a 15-minute intermission

Content Advisory:

Playhouse children's theatre productions are intended for ages 5 and up.