Go, Dog. Go!
Three dogs snorkel. Blue dogs howl. Small dogs ride a Ferris wheel. ALL dogs sing and dance and climb trees in an exploration of movement, color, and space. A big and little musical world of doggy fun! PD Eastman's classic children's book comes to life on stage like a pop-up book that never stops.
Animal Rescue League of Iowa (ARL) visit on opening night, Jan. 6, 2023
ARL will have canines from their TheraPets program greeting guests on opening night! Each youth will receive coloring pages, tattoos, and stickers, and adults can learn more about the ARL's pet therapy program. The main goal of the TheraPets program is to provide guided interactions with certified animal teams to thousands central Iowans each year. The ARL is Iowa's largest nonprofit animal shelter, caring for many thousands of pets each year. Its programs include pet adoption, humane education, pet behavior training, spay/neuter, animal cruelty intervention, and more.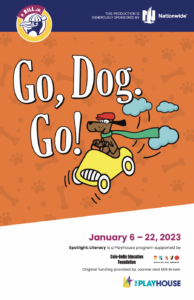 Click here to download a PDF of the Go, Dog. Go! P Bill Jr.
If ticket prices are keeping you away from this show, please call the ticket office at 515.277.6261, Noon-5:00 PM, Tuesday-Friday. We have supporters who want to make sure everyone gets a chance to see this production.
Performance Times:

7:00 PM Fridays; 1:00 PM & 4:00 PM Saturdays & Sundays

School Matinees:

9:30 AM & Noon, Tuesdays, Jan. 10 & 17, 2023

Theatre:

Kate Goldman Children's Theatre

Run Time:

75 minutes including a 15-minute intermission

Content Advisory:

Playhouse children's theatre productions are intended for ages 5 and up.