Harriet the Spy
Harriet M. Welsch is an only child raised by busy parents and her well-read, pragmatic nanny, Ole Golly. Harriet is also… a spy. When her secret notebook of blunt and hurtful observations about her classmates and neighbors is accidentally found, her friends turn on her. Ole Golly has left Harriet to marry but returns to her lonely ward to offer her important advice: "Sometimes you have to lie. But to yourself, you must always tell the truth."
If ticket prices are keeping you away from this show, please call the ticket office at 515.277.6261, Noon-5:00 PM, Tuesday-Friday. We have supporters who want to make sure everyone gets a chance to see this production.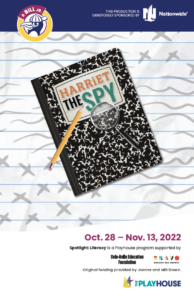 Click here to download a PDF of the Harriet the Spy P Bill Jr.
Performance Times:

7:00 PM Fridays; 1:00 PM & 4:00 PM Saturdays & Sundays

School Matinees:

9:30 AM & Noon, Tuesdays, Nov. 1 & 8, 2022

Theatre:

Kate Goldman Children's Theatre

Run Time:

1 hour 45 minutes including a 15-minute intermission

Content Advisory:

Playhouse children's theatre productions are intended for ages 5 and up.