How I Became a Pirate
Sail off on a fantastic excursion when a band of comical pirates land at North Beach looking for an expert digger to join their crew. Braid Beard and his mates enlist young Jeremy Jacob as they look for the perfect spot to bury their treasure. Jeremy finds that adventuring can be lots of fun, but also learns that love and home are treasures you can't find on any map. The whole family will love this delightful and swashbuckling musical adventure.
If ticket prices are keeping you away from this show, please call the ticket office at 515.277.6261, Noon-5:00 PM, Tuesday-Friday. We have supporters who want to make sure everyone gets a chance to see this production.
Thanks to our sponsor, Nationwide, we have a limited number of tickets for preview night, Thursday, Apr. 20, 2023, available for $10 each. Tickets may be purchased starting at 10:00 AM, Thursday, Apr. 20, online only.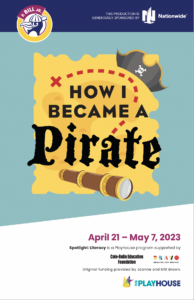 Click here to download How I Became a Pirate P Bill Jr.
Performance Times:

7:00 PM Fridays; 1:00 PM & 4:00 PM Saturdays & Sundays

School Matinees:

9:30 AM & Noon, Tuesdays, Apr. 25 & May 2, 2023

Theatre:

Kate Goldman Children's Theatre

Run Time:

75 minutes including 15-minute intermission

Content Advisory:

Playhouse children's theatre productions are intended for ages 5 and up.