nature of the dream
nature of the dream is a filmed work of devised theatre exploring Black identity in Iowa directed by Miriam Randolph and produced by Two Steps to the Left Productions with production assistance from The Playhouse.
Devised theatre is a freeform style in which all members of the creative group work collectively and collaboratively, to design a performance completely from scratch. There is no script involved prior to the devising process, but rather the script gets written along the way. Due to COVID-19, Miriam and her team brought this approach to film rather than theatre. The title nature of the dream is a double entendre of sorts, referring to both how the American dream applies, or does not apply, to Black citizens in America and also to personal dreams that Black Americans have. Using the latter helped form a narrative explanation of how each ensemble member would be able to portray multiple characters in the film.
nature of the dream debuted at 7:00 PM, Thursday, Feb. 25, 2021. Those purchasing the film could view it multiple times until midnight, Sunday, Mar. 7, 2021. In order to make nature of the dream as accessible as possible, buyers chose from a variety of ticket prices ranging from $5 to $100. The full ticket price was shared amongst Urban Dreams and the artists creating this film.
Below is a conversation with the creators. Individuals do not have to purchase the film to view this conversation. The conversation is also posted on The Playhouse's YouTube channel and on Two Steps to the Left Productions' website.
nature of the dream resources and partners
Black Iowa Business Directory
Des Moines Art Center
Des Moines Black Lives Matter
Des Moines Black-owned Businesses (downloadable PDF)
Iowa Black Businesses Directory, The Director's Council 
Pyramid Theatre Company
Raygun
Shop Black DSM
Two Steps to the Left Productions
Urban Dreams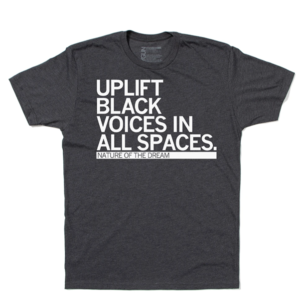 Purchase an exclusive nature of the dream UPLIFT BLACK VOICES IN ALL SPACES tee shirt from Raygun. A portion of the proceeds goes to the nature of the dream artists and Urban Dreams. Click here for more information.
Performance Times:

Premiere 7:00 PM, Thursday, Feb. 25, 2021, with video-on-demand available through Mar. 7, 2021.

Theatre:

Special Events

Content Advisory:

The Playhouse does not rate subject matter as sensitivities vary from person to person. If you have questions about content, age appropriateness, or other aspects of the show, please contact the ticket office at 515.277.6261.