Pippi Longstocking
Her father is a pirate captain, her mother is an angel, there's a horse on the porch, and a monkey in the kitchen! Pippilotta Delicatessen Windowshade Mackrelmint Ephraim's Daughter Longstocking, or Pippi for short, is not your average young girl. She lives on the outskirts of town in a ramshackle house. You would know her if you saw her freckle-face, red-pigtails, and mismatched stockings. Whether she's standing up to the Child Welfare Board or thwarting burglars after a gold treasure, every day is an adventure when you're with Pippi!
Two ways to see Pippi Longstocking
In-person preview: Apr. 21, 2022
In-person: Apr. 22-May 8, 2022
Please note this show is being presented in the Kate Goldman Children's Theatre and will be sold at full capacity as demand warrants.
Our safety guide has been updated and reflects these main changes.
The Playhouse no longer requires masks to attend a performance. However, masks are welcomed! If it makes you more comfortable, please feel free to wear a mask. We understand that individual healthcare is a matter of personal practices and choices.
There will be no autographs after the show.
We do ask that:
if you are feeling sick, or
have a positive test, or
have had exposure to someone who has COVID
please call the ticket office and reschedule your performance. Our refund and exchange policy remains in effect: You have up to 7 days following your performance date to request an exchange or refund.
Please note: The Playhouse remains committed to providing a healthy and safe environment for volunteers and guests. Should circumstances change once again, mask mandates return, or the CDC alters their recommendations, we will follow the most stringent guidelines. Click here to read our changes as of Mar. 2, 2022.
If ticket prices are keeping you away from this show, please call the ticket office at 515.277.6261, Noon-5:00 PM, Tuesday-Friday. We have supporters who want to make sure everyone gets a chance to see this production.
Note: Streaming and video-on-demand rights are not available for Pippi Longstocking. This show will be in-person only.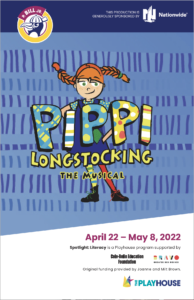 Click here to download the Pippi Longstocking P Bill Jr.
Performance Times:

7:00 PM Fridays; 1:00 PM & 4:00 PM Saturdays & Sundays

School Matinees:

9:30 AM & Noon, Tuesday, Apr. 26, & Tuesday, May 3, 2022

Theatre:

Kate Goldman Children's Theatre

Run Time:

95 minutes including a 15-minute intermission

Content Advisory:

Playhouse children's theatre productions are intended for ages 5 and up.