The Hundred Dresses
Maddie Reeves has a dilemma. When Wanda, a new classmate who wears the same faded blue dress to school every day, says she has 100 dresses at home, the kids tease her. The bullying gets so bad, Wanda and her family move away. Maddie is wracked with guilt and she soon realizes that allowing her friend Peggy to be a bully can be just as bad as acting that way herself. Wanda is gone, but Maddie gets another chance to stand up to her classmates, making an unlikely friend in the process.
A note regarding derogatory language
The term Polack is used in the play, which is an insulting reference to a person of Polish descent. While The Des Moines Playhouse does not condone the use of this language, it is accurate given the topic, the setting, and the time period of the story and, therefore, is retained for the purpose of being true to the story. 
It is hoped that this language, as well as the attitudes of some of the characters, will inspire conversations about why people behaved and spoke in the ways they did, how things have changed since 1938, and the ways in which we can continue to grow.
If ticket prices are keeping you away from this show, please call the ticket office at 515.277.6261, Noon-5:00 PM, Tuesday-Friday. We have supporters who want to make sure everyone gets a chance to see this production.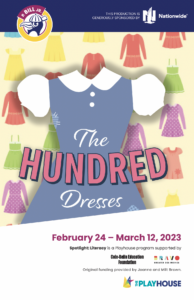 Click here to download The Hundred Dresses P Bill Jr
Performance Times:

7:00 PM Fridays; 1:00 PM & 4:00 PM Saturdays & Sundays

School Matinees:

9:30 AM & Noon, Tuesdays, Feb. 28 & Mar. 7, 2023

Theatre:

Kate Goldman Children's Theatre

Run Time:

95 minutes including a 15-minute intermission

Content Advisory:

Playhouse children's theatre productions are intended for ages 5 and up.