The Sound of Music
Let your heart sing once more when a free-spirited young woman is sent to take care of seven precocious children of a widowed naval captain. One of the best-loved musicals of all time and based on the true story of Maria and the von Trapp family, The Sound of Music features cherished songs like "My Favorite Things," "Do-Re-Mi," and "Climb Ev'ry Mountain."
The Sound of Music is not part of either the John Viars Theatre or Kate Goldman Children's Theatre season ticket. However, season ticket holders get to purchase tickets at a discount.
Two ways to see The Sound of Music
In-person: Dec. 3-19, 2021
Our safety guide has been updated and reflects these main changes.
Masks are required for everyone over the age of 2 regardless of vaccination status for performances of The Sound of Music. Volunteers and guests who do not comply will not be admitted and tickets will be refunded.
The Playhouse will seat at full capacity if demand warrants.
There will be no autographs after the show.
Please note: The Playhouse remains committed to providing a healthy and safe environment for volunteers and guests and as such we are monitoring the current recommendations, guidelines, and restrictions to which we are subject. Based on CDC and state guidelines at the time of your event, protocols may include mask enforcement, social distancing, or more. Volunteers and guests who do not comply with Playhouse policies will not be admitted and guest tickets will be refunded. Click here to download our full safety guide updated Aug. 31, 2021.
Recorded performances: Dec. 9-19, 2021
Please note this is not video-on-demand. You will need to purchase a specific viewing time. These viewing times are the exact same times as our in-person performances. The recorded performance is opening night, Friday, Dec. 3, 2021.
© 2020. THIS AUDIO-VISUAL PRESENTATION WAS PRODUCED BY SPECIAL ARRANGEMENT WITH CONCORD THEATRICALS CORP. ALL RIGHTS RESERVED. THIS AUDIO-VISUAL PRESENTATION IS AUTHORIZED FOR NON-COMMERCIAL USE ONLY. FURTHER DISTRIBUTION OF THIS PRESENTATION BY DOWNLOAD, STREAMING, REPOSTING, BROADCAST, TELECAST, OR IN ANY OTHER MANNER OR MEDIUM, IS STRICTLY PROHIBITED, A VIOLATION OF THE AUTHOR(S)'S RIGHTS, AND ACTIONABLE UNDER APPLICABLE COPYRIGHT LAW. WARNING: FEDERAL LAW PROVIDES SEVERE CIVIL AND CRIMINAL PENALTIES FOR THE UNAUTHORIZED REPRODUCTION, DISTRIBUTION OR EXHIBITION OF COPYRIGHTED AUDIO-VISUAL MATERIALS. CRIMINAL COPYRIGHT INFRINGEMENT IS INVESTIGATED BY THE FBI AND MAY CONSTITUTE A FELONY WITH A MAXIMUM PENALTY OF UP TO FIVE (5) YEARS IN PRISON AND/OR A $250,000 FINE.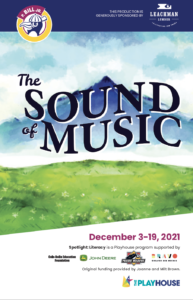 Click here to download a digital The Sound of Music P Bill Jr. The Download Playbill link below is for the main playbill.
Performance Times:

7:00 PM Thursdays & Fridays, 1:00 PM & 5:00 PM Saturdays & Sundays

School Matinees:

9:30 AM, Tuesday, Dec. 14, 2021

Theatre:

John Viars Theatre

Run Time:

2 hours 45 minutes including a 15-minute intermission

Content Advisory:

Playhouse holiday productions are intended for ages 5 and up. The Playhouse does not rate subject matter as sensitivities vary from person to person. If you have questions about content, age-appropriateness, or other aspects of the show (ie strobe lights and other theatrical effects), please contact the ticket office at 515.277.6261.