What to expect when you come to Live Theatre Drive-In
Arrival — Please arrive by 6:30 PM/9:30 AM for family shows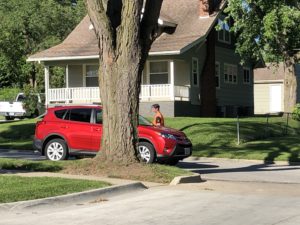 Parking Lot opens at 6:00 PM evenings, 9:00 AM Saturday mornings. Parking is first-come-first-served, based on size of vehicle. Please arrive by 6:30 PM (9:30 AM for family shows) at the latest, so we may accommodate those still on a waiting list.
Check in with staff at the intersection of Rollins Avenue and 41st Street. Please let us know if you will be sitting in your car or sitting in your own lawn chairs. If you bring lawn chairs and don't have an FM radio, we have a few spares to loan you.
Programs will be available to let you know about the show and performers.
Parking
Staff will direct you to your assigned parking spot, which is based partly on the size of your vehicle. Smaller cars will be parked closer to the stage than larger cars, so please consider driving a sedan.
Please remain in your parking spot to protect yourself and others. If you need to leave your assigned area for any reason, please wear a mask in consideration of others.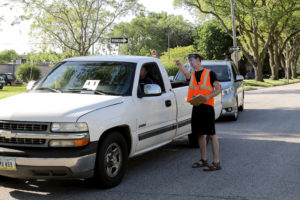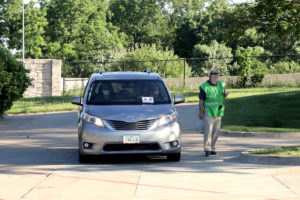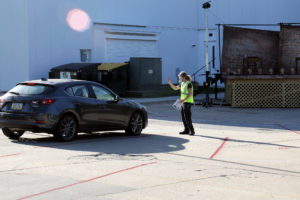 Audio
Tune to 87.9 FM to hear the actors. Starting at 6:00 PM/9:00 AM, music will be playing to give you time to test your systems.
We know that there are a lot of different cars with lots of instructions. As theatre people, we aren't very good mechanics, so bring your car manual and together we will figure it out. If you have an old-fashioned radio, you are welcome to bring it. There are also a number of radio apps available for your Android (sadly not for iPhone). Headphones are often required for these apps, so check them out in advance.
A small number of radios are available should you have trouble with your car. For the enjoyment of others, please make sure your headlights/running lights are off.

Free admission & concessions with donations accepted
Every contribution will be matched! Three easy options for donating:
Credit/Debit. DipJar is a secure device into which you insert your credit/debit card and your contribution is completed in 3 seconds. Want to give more than the suggested donation? Just "dip" your card again.
Text. Text "drivein" to 243725.
Cash. 

Concessions
Prior to the performance, Playhouse staff will visit each parking spot with candy and pop, which are free with donations accepted. You are also welcome to enjoy your own refreshments. Regretfully, alcohol cannot be consumed in our parking lot.
Protecting Yourself & Others
Please stick to your parking spot. If you need to leave your assigned area for any reason, please wear a mask in consideration of others. Walk within the designated walk zones (white paths).
Please do not come if you have the following:
Are feeling unwell or have been unwell in the past 14 days.
Have had a positive test for COVID-19 or have a test pending.
The Playhouse is doing the following:
Increasing sanitation for public spaces within the building.
Practicing physical distancing where possible and appropriate.
Requiring staff and volunteers to wear face shields when interacting with the public and each other.
Asking guests to bring masks to wear when entering the building.
Encouraging donations and purchases by credit/debit card to reduce contact.
Providing face shields, aprons, gloves, and hand sanitizer for those working at the Drive-In.
Creating parking spaces at least 6′ apart.

Restrooms

All shows are performed without intermission. Each evening show is approximately 90 minutes. The Saturday family show is 50 minutes. You should use your facilities before leaving home.
If needed, restrooms are located on the lower level of the theatre. Please wear a mask to the restroom. Staff will open the doors and sanitize the restroom after your visit. Please maintain good physical distances while waiting.